40Lt Fridge Freezer
Regular price
$1,399.00 USD
Regular price
Sale price
$1,399.00 USD
Unit price
per
Keep drinks cold and food fresh with the AreaBFE 40 fridge / freezer that is built tough for camping, van life, overloading or tailgating. Equipped with a dual hinged lid to allow your fridge to open from either end allowing for multiple mounting options, or totally removed if needed. We would recommend this fridge for 2 people, as well as overlanders that like to take or freeze food on the go. Fill it up with frozen goods or have it as a fridge for your perishables. We like to fill it full of beer.
This rugged fridge or freezer has a single zone compartment that can be set to fridge or freezer with minimal power draw at about 2.4amp (fridge).  Running low on battery? Switch to emergence mode to conserve power and extend your battery life longer. We have included a USB power plug to power or charge a phone or device in an emergency. Spring-loaded handles that can be easily removed for tight fitments.
Our high contrast LED panel and easy to use interface allows for users to customize settings. Power options include 12V auto cig lighter plug from your vehicle as well as an external battery box to go fully off grid. When you have access to 110V power you can use the transformer to power the fridge, We designed the fridge to have the transformer external to keep the weight of the fridge down.
Note: For the fridge to get to the desired temperature the start-up amp draw will be greater than the running amp draw once the fridge is at its set temperature.
SPECIFICATIONS:
Dimensions: 29" L x  16" W x 17"
Weight: 35 lb
Volume: 40Lt capacity
Share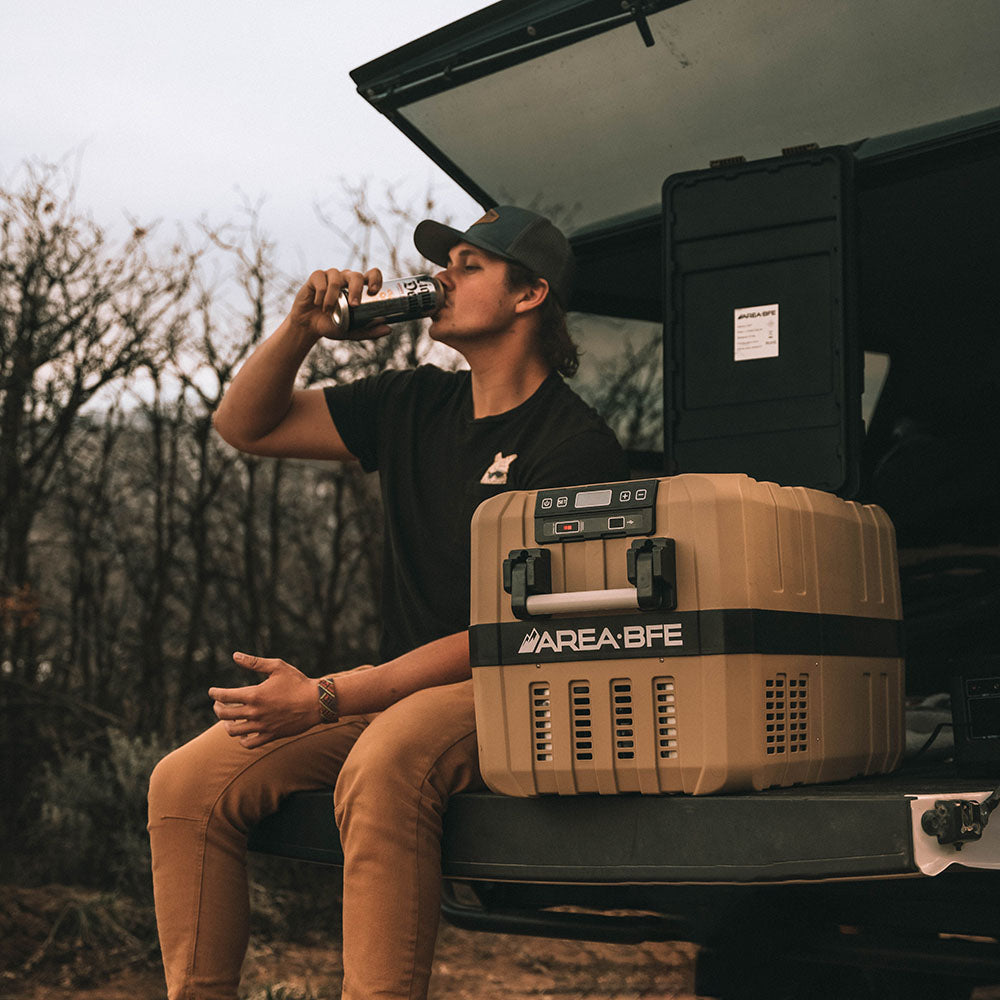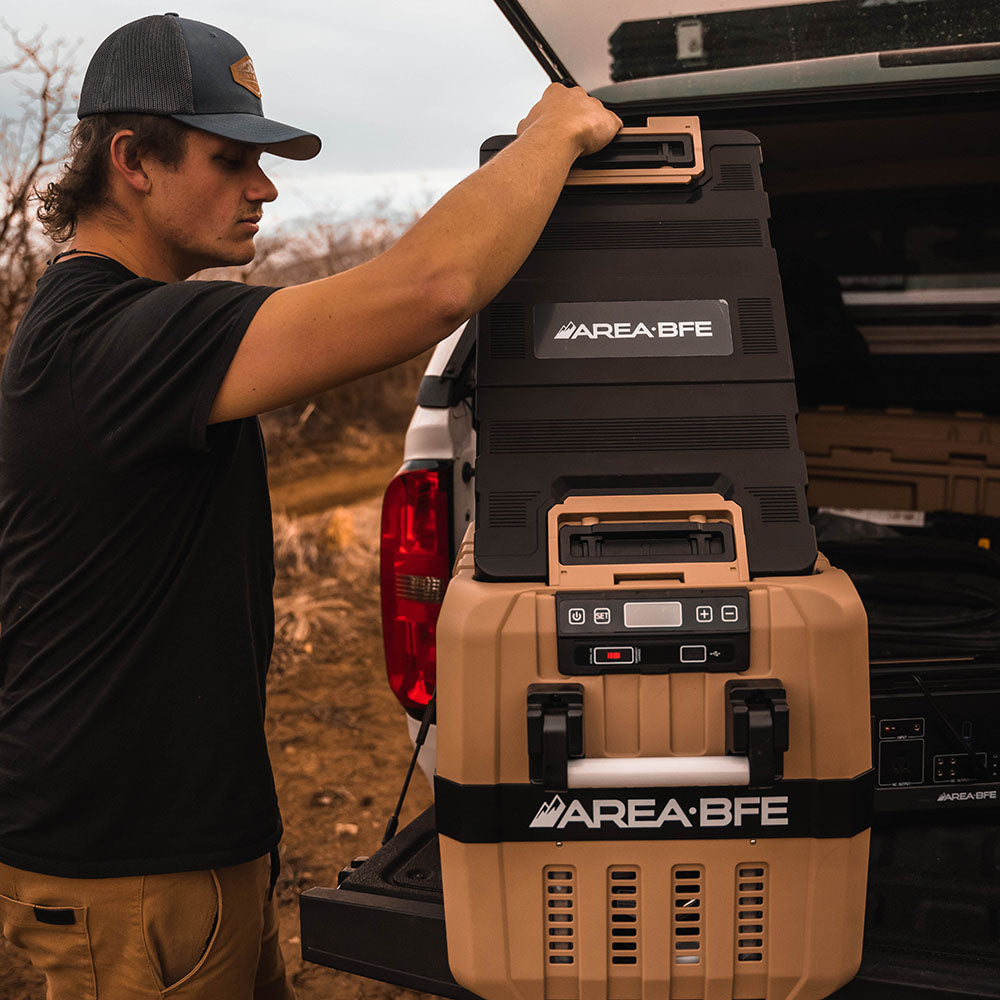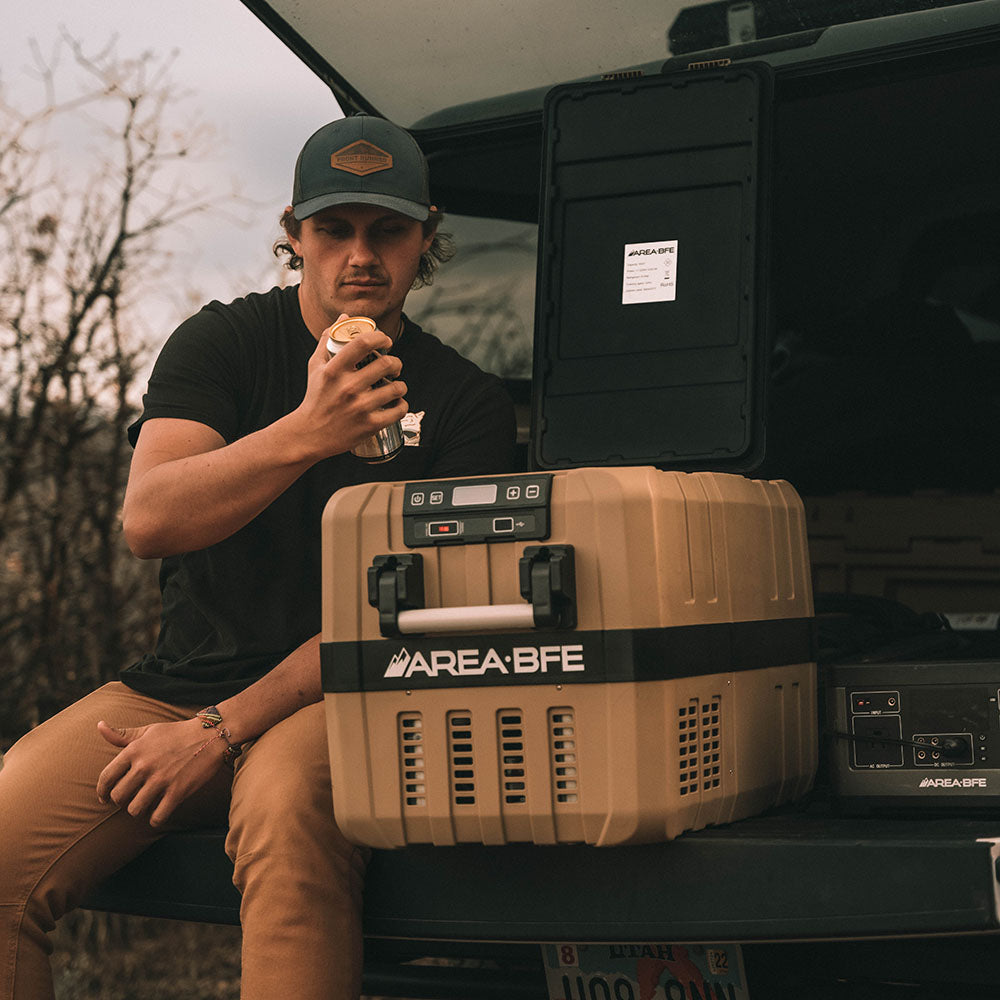 LOW POWER DRAW TO COOL

MULTIPLE POWER OPTIONS

FRIDGE / FREEZER OPERATION

RUGGED CONSTRUCTION
CAR 12V CIG PORT

BATTERY BOX

WALL AC OUTLET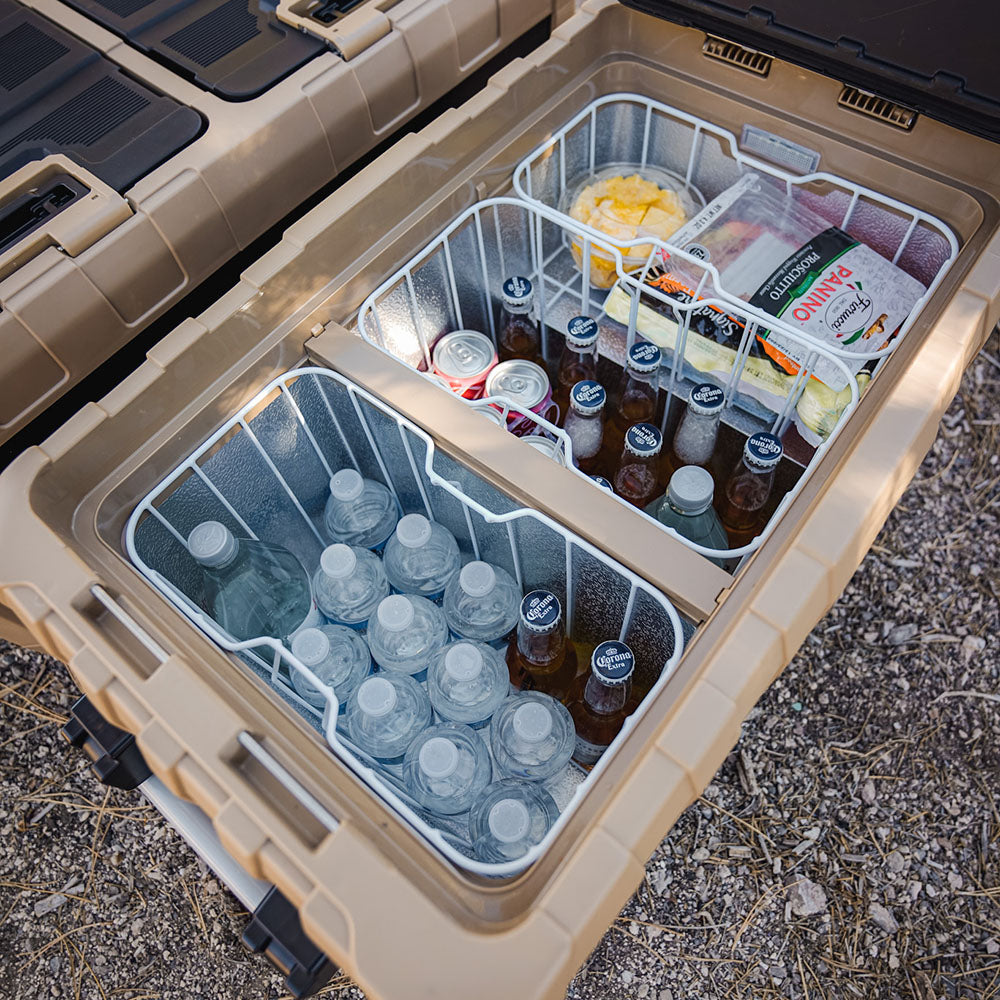 SINGLE COMPARTMENT
Our 40LT fridge / freezer has a single compartment with dual zones allowing to run in fridge or freezer modes.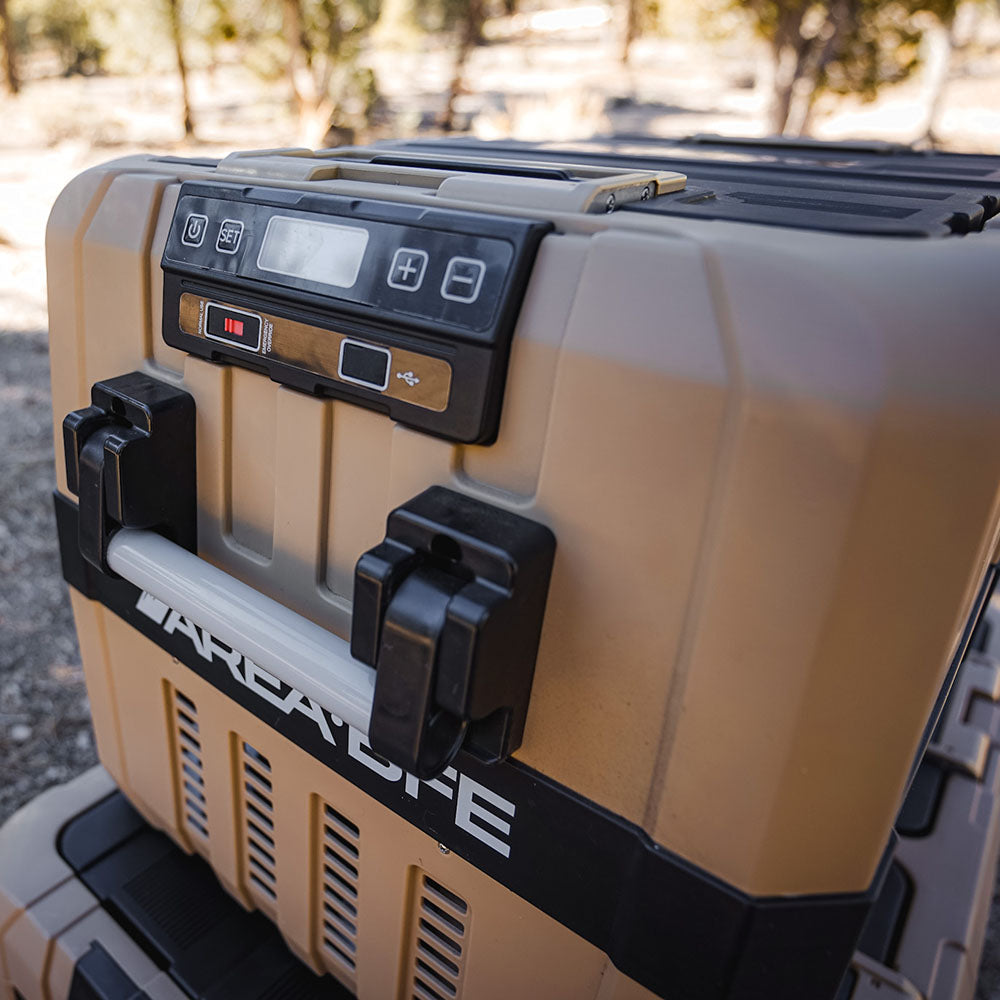 EASY TO USE CONTROLS
Our hi contrast LED screen along with intuitive buttons allows for easy control and customization of the fridge / freezer unit.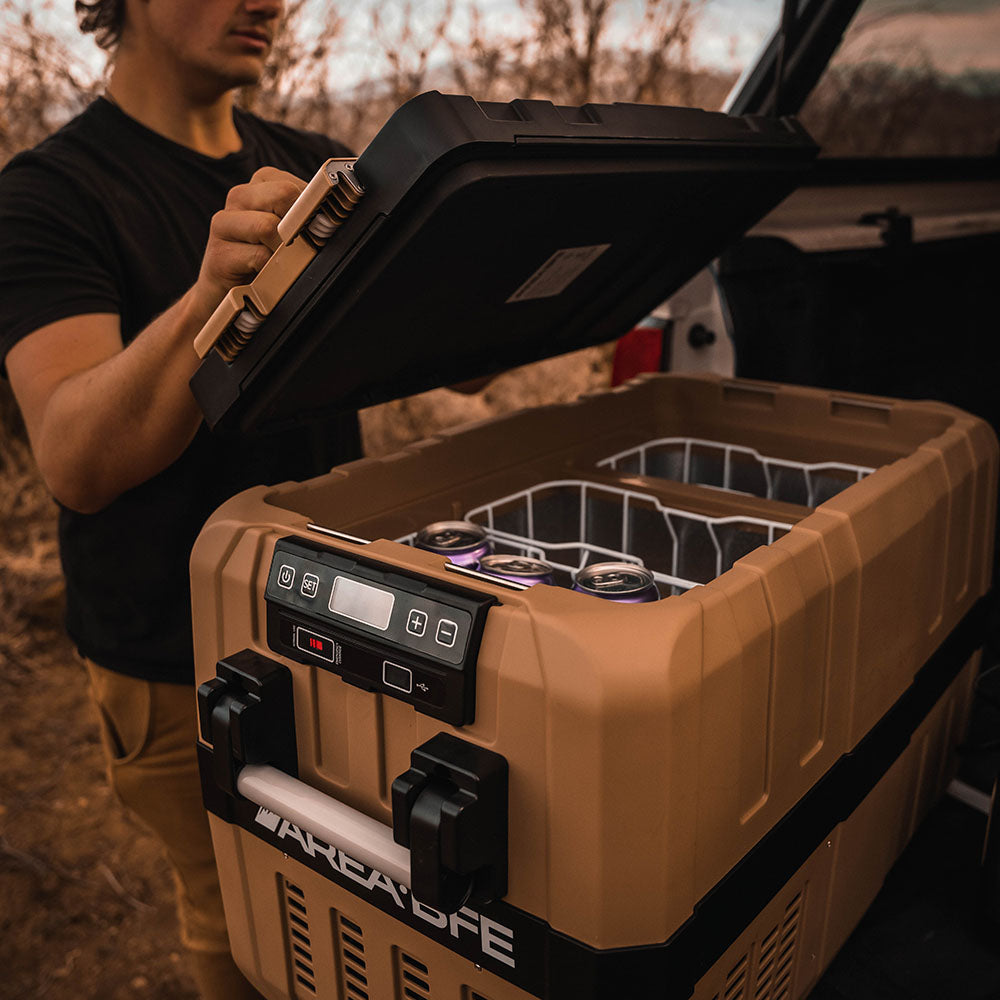 RUGGED CONSTRUCTION
Our fridge top can be set to open from either end for ultimate customization or even removed in tight spaces.
"your gear should elevate your adventures, and the Area BFE aluminum hardshell tent does exactly that."
intents-adventures.com review
READ THE FULL REVIEW